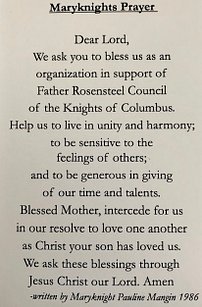 Established on May 9, 1960, The Maryknights serve to aid, assist, and support the Father Rosensteel Council of the Knights of Columbus in their Council activities.
In carrying out this purpose, The Maryknights strive to promote the social, cultural, and religious improvement of their membership, and engage in activities intended to further the interests of The Maryknights and the Father Rosensteel Council.
This year (2021) The Maryknights were awarded not one, not two, but THREE 2nd Place awards from the State. Second Place for Best Full Year Program, Best Recurring Activity, and Best New Activity!! Congratulations to all for providing such incredible support during an unprecedented year! The Maryknight's are amazing!!
Vice-President
teresa.l.hodge@gmail.com
Treasurer
rbdutton@comcast.net
President
irishchero@comcast.net
Secretary
d.stocker@hotmail.com
Historian
cawalper@aol.com